Home › Forum › Bloo's Fan-Fic (Discussion Thread)
Forum
Bloo's Fan-Fic (Discussion Thread)
DeathWraith
2013-08-22 17:47:28
I feel like your drawing style wants to disagree.
READ THE RULES

A song about me and skull_ripper that I wrote:
"Yeah, uh, yea yeah, uh, yeah, crackers gonna crack yeah, uh, yeah..."
(thats what I have so far hope u like it)
-Bloo-
2013-08-22 20:00:20
Yeah, that's another thing that's bothering me, too. Even my coloring style makes this look like an anime. I actually think about this a lot. It only bothers me because I know a lot of Alien/Predator fans who absolutely detest anime as an art form. You might even be one of them, I don't know.

It's even been brought up on this forum with a lot of people claiming that "anime will ruin AVP forever!!!"

And to an extent, I understand where that sentiment comes from. I could do without a lot of the typical anime cliches that show up for some reason. But for the most part, I disagree because of works like Kill Bill, Blood, Death Note, Cowboy Bebop, Evangelion, etc, but that's a discussion for another topic.

So far, no one's complained about my drawing style, but because of those past discussions, I can't help but wonder if that's only because they don't want to hurt my feelings. I've stuck with it because it's the most aesthetically pleasing style to me while also being relatively quick and easy to produce.

But it still bothers me.

FireHunter
2013-08-23 03:06:51
Honestly it's difficult to have drawn human characters without them looking like they're from either a Disney movie or an Anime of some form. Although the form of anime that I detest is the big sparking eyes and stuff like that, the Kill Bill style wasn't too bad I thought.
DeathWraith
2013-08-23 03:19:45
I don't mind anime at all, I study Japanese in college because of anime. I hate Japan because I like Korea, but that's a completely different story. I watched the third Bleach movie just yesterday, actually. And speaking of Bleach, I think that's one of the things that makes some anime insufferable to people with good sense. They can be an endless stream of Deus Ex Machina.
READ THE RULES

A song about me and skull_ripper that I wrote:
"Yeah, uh, yea yeah, uh, yeah, crackers gonna crack yeah, uh, yeah..."
(thats what I have so far hope u like it)
-Bloo-
2013-09-04 17:52:44
Hey everyone, I gotta ask you something.
If you've bothered to skim through
Some Art Crap
, you know that I decided to include a 3rd and 4th monster - Chiropterans and 3-Eyed Dragons. What do you feel about other species fighting Aliens/Predators? I want to ask you because no one's brought it up yet, and it's really important because I know how you guys feel about crossovers.
First of all, this is still very much just Aliens Versus Predator. The main conflict is between them. But within the context of the story I've created, it would be ridiculous to have just these two. There are things called Black Water Creatures, and if you've seen Prometheus, you know them already. Xenomorphs are BWCs and are the strongest kind. Chiropterans and Dragons, though weaker, are in the same boat.
Second, the idea came from Prometheus itself. Xenomorphs are hinted at being the perfect BWC, but there are others that exist, as seen by the Trilobite, Deacon, and those little squirmy guys that I don't really care about. So I wanted to expand on that.
The species I want to include - the Chiro and Dragon - are ones I really believe can stand on the same ground as Aliens and Predators. I spent a long time deciding how they were going to fit. I didn't just want to throw them in for nothing - they WILL contribute
a lot
to the story, and will not overshadow the main two species.
Before you ask, my dragons aren't firebreathing dinosaurs. Mostly, they're like big Chestbursters with tentacles. They can sprout wings, and they've got tiny mouths everywhere. Maybe they're the adult form of those worm assholes?
I won't draw one till I get my new tablet this weekend (thank fucking
god
), but in the meantime, imagine a hybrid between these things:
Chiropterans, on the other hand, are gigantic bats. They're a deconstruction of the modern vampire. They can walk in sunlight and they attack anything that moves, not just humans. Above all, they the appearance of humans, the instinct of Xenomorphs, and the intelligence of Predators. They can sprout wings, they have inner jaws, and they have a hive structure similar to Xenomorphs.
There are a few catches, though. For a normal strain, transformation is EXTREMELY painful. The reason any of them are even IN human form as opposed to staying in the much more powerful bat form is because they're scared of what it feels like to change, and they're rightful to think so. There are also less than 20 of them alive compared to the 87 Predators and near-billion of Xenomorphs.
The reason I wanted to include Chiropterans is because they're a perfect foil to the main two species. They provide a certain depth not normally seen in AVP media. What that depth is, exactly, is something I can't say here yet.
For an idea of how they look, imagine these put together: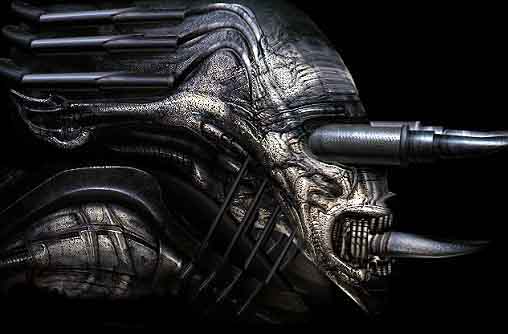 So, if the case were that something like
these
two were involved in Aliens Versus Predator, would that be acceptable to fans?
DeathWraith
2013-09-04 18:10:08
Alien vs Predator vs Dune vs Batman vs Australian wildlife?
READ THE RULES

A song about me and skull_ripper that I wrote:
"Yeah, uh, yea yeah, uh, yeah, crackers gonna crack yeah, uh, yeah..."
(thats what I have so far hope u like it)
-Bloo-
2013-09-04 18:29:29
I should name this project "Australia in the Future." Some of it even takes place in Australia.
Deathdrop
2013-09-04 20:40:22
The dragons sound cool, but the vamps confuse me a little. I have to admit to some trepidation as far as adding more monsters goes, but then again... Fuck it. This is already a different animal than the "canon" AVP-verse(s), so a few more changes shouldn't be that big a deal. Make it yours.
-Bloo-
2013-09-04 23:48:50
I don't blame you, so do I; otherwise I'd be 100% confident with it and would instead keep it as a surprise.

They're both supposed to add a layer of tension and horror in different "flavors" from the Aliens and Predators. To put it simply, Dragons are the mindless brutes that attack from the outside while Chiropterans, being intelligent creatures, assimilate into society and attack from the inside. And for the past 200 years in-universe, they have not been detected.

As far as the vamps go, the fact that they have human forms is a plot twist I've been trying to work into the story for the past few months. Humans don't know that Chiros are anything other than monsters.

Basically there are 4 separate stories going on at the same time that occasionally cross over that each deal with one of the 4 monsters, and the Chiropterans and Predators share the theme of "who is the enemy?" Eventually the two main characters of those stories will be asked why they're fighting - one to protect humans, and one to kill Predators. But then it's found out that some human leaders are Chiropterans, and not all Predators are the enemy.

And then it's found out that one of the main characters - a person who hates them the most - IS a Chiropteran who lost its memory (which sounds really rough on paper but there's a lot more to it). Not only that, she's a Queen, and the one who started a sort of civil war between the living Chiropterans before getting laser-guided amnesia. The civil war is the reason why there are less than 20 left, and it's the same reason why some Chiropterans have worked to become human leaders.

It's really iffy, I know, but this is a far cry from "Aliens Versus Predator Versus Dracula."

Could I have done the same thing with just Aliens and Predators? Yeah - I even said as much in an earlier thread months ago. But with some of the other events I have planned, there's no way I could make it work without looking ridiculous, so I saw this as a chance to turn this into - like you said - a different animal from the standard AVP story. And that's where the concept of Hunters and an underground civilization came from.

Edit: Oh, this probably goes without saying, but Dragons and Chiropterans are cousins to the Xenomorph. Xenomorphs don't need to sprout wings or other body parts like they do because they don't need to - I'll explain that more later.

Dronehive
2013-09-05 18:23:57
So is a CHpwazzuwat

The Thing?

Cause it sounds like it.
-Bloo-
2013-09-05 20:11:54
That's actually kind of accurate. Their default form when first being mutated by the black liquid is that of giant bat-looking thing, but they can take the appearance of humans and animals they feed on, and it's their goal to influence the humans into traveling back to the Surface. Their reasoning for this is so that humans, once on the surface, will reawaken The Hive.

The reason humans are underground in the first place is because Predators forced them there - there's more to it in the Art thread.
DeathWraith
2013-09-05 20:37:14
Remember my Midian character? It was some sort of predator vampire. What I remember about it was that it had completely black blood because the actual bloodstream had been replaced by some unicellular organism that was responsible for all the mutations it had gone through. And what do you know, years later James Cameron made a movie about a black goo that does shit to people. On and it used to actually munch on predators, not just zuck ya blood. Hm, now that I think about it, I think he had a whole story behind him. Damnit, I should have saved all that when predess said "hey, i'm deleting Midian, you wanna save anything?"
READ THE RULES

A song about me and skull_ripper that I wrote:
"Yeah, uh, yea yeah, uh, yeah, crackers gonna crack yeah, uh, yeah..."
(thats what I have so far hope u like it)
| | |
| --- | --- |
| Guest | |